Another day, another set of posts for
Bard on the Blogs
! In case you missed it, I'm teaming up with
Alyssa
of
Books Take You Places
for
Bard in the Blogs
! Alyssa and I share a mutual love for William Shakespeare and his work, so we decided it would be an excellent idea to celebrate with a little blog event. I'm so thrilled to have so many wonderful people guest posting on both my blog and Alyssa's blog, so a big
thank you
goes out to those who volunteered to share with us! I hope you enjoy all the posts (and look out for the giveaway too)! Today's second post is from
Heather
of
Based on a True Story
, and she's sharing some book recommendations for readers who enjoyed
A Midsummer Night's Dream
!
A Midsummer Night's Dream has always been my favorite Shakespeare play. A woman runs away from her politically arranged wedding with her lover only to get caught up in an argument between the King and Queen of the fairies. A love potion is given to the wrong person causing chaos throughout the night. If you loved A Midsummer Night's Dream like I did, try these books.

Written in the Stars
by
Aisha Saeed
"Naila's conservative immigrant parents have always said the same thing: She may choose what to study, how to wear her hair, and what to be when she grows up—but they will choose her husband. Following their cultural tradition, they will plan an arranged marriage for her. And until then, dating—even friendship with a boy—is forbidden. When Naila breaks their rule by falling in love with Saif, her parents are livid. Convinced she has forgotten who she truly is, they travel to Pakistan to visit relatives and explore their roots. But Naila's vacation turns into a nightmare when she learns that plans have changed—her parents have found her a husband and they want her to marry him, now! Despite her greatest efforts, Naila is aghast to find herself cut off from everything and everyone she once knew. Her only hope of escape is Saif . . . if he can find her before it's too late."
Like Hermia in the play, Naila's parents choose a husband for her and it isn't the boy she wants.
The Thinking Woman's Guide to Real Magic
by
Emily Croy Barker
My rating:
4 of 5 stars
"Nora Fischer's dissertation is stalled and her boyfriend is about to marry another woman. During a miserable weekend at a friend's wedding, Nora wanders off and walks through a portal into a different world where she's transformed from a drab grad student into a stunning beauty. Before long, she has a set of glamorous new friends and her romance with gorgeous, masterful Raclin is heating up. It's almost too good to be true.
An ordinary woman needs to get away from the fairy court where she is the newest pet. The fairies are self-centered and manipulative just like Shakespeare's.
The Wee Free Men
by
Terry Pratchett
My rating:
4 of 5 stars
"Armed only with a frying pan and her common sense, Tiffany Aching, a young witch-to-be, is all that stands between the monsters of Fairyland and the warm, green Chalk country that is her home. Forced into Fairyland to seek her kidnapped brother, Tiffany allies herself with the Chalk's local Nac Mac Feegle - aka the Wee Free Men - a clan of sheep-stealing, sword-wielding, six-inch-high blue men who are as fierce as they are funny. Together they battle through an eerie and ever-shifting landscape, fighting brutal flying fairies, dream-spinning dromes, and grimhounds - black dogs with eyes of fire and teeth of razors - before ultimately confronting the Queen of the Elves, absolute ruler of a world in which reality intertwines with nightmare."
More evil fairies who promise to give you all you ever wanted! Tiffany is an amazing heroine who has to save her brother and the son of the local gentry with only her brains and her frying pan.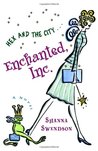 Enchanted, Inc.
by
Shanna Swendson
My rating:
3 of 5 stars
"Katie Chandler had always heard that New York is a weird and wonderful place, but this small-town Texas gal had no idea how weird until she moved there. Everywhere she goes, she sees something worth gawking at and Katie is afraid she's a little too normal to make a splash in the big city. Working for an ogre of a boss doesn't help. Then, seemingly out of the blue, Katie gets a job offer from Magic, Spells, and Illusions, Inc., a company that tricks of the trade to the magic community. For MSI, Katie's ordinariness is an asset. Lacking any bit of magic, she can easily spot a fake spell, catch hidden clauses in competitor's contracts, and detect magically disguised intruders. Suddenly, average Katie is very special indeed."
Like the lovers in the play, Katie stumbles into a magical world that she didn't know existed. This series is fast and funny with some romance too.
Love Potions
by
Christina Jones
"When aromatherapist Sukie starts using her cottage garden to provide raw ingredients for her products, she thinks she's hit on a good way of saving money while offering her clients a way of de-stressing and relaxation. However, Sukie discovers that her new improved lotions and potions are making her massages distinctly magical."
Potions are more powerful than you think! Be careful.
What other books have you read that remind you of A Midsummer Night's Dream?
(All book summaries from Goodreads.)
Thank you so much, Heather! I loved that the selection of books you've included are from various age groups and genres, and I certainly would like to try reading them. Perhaps after a reread of A Midsummer Night's Dream?
As mentioned in the previous posts, Alyssa & I are hosting a giveaway. We're going to be picking
TWO WINNERS
to pick the
SHAKESPEARE RETELLING
of their choice. Best part? It's open
INTERNATIONALLY
(as long as Book Depository ships to your country). For an idea of what retellings you can pick,
here's a handy list
. You can enter via the Rafflecopter form below: